Agriculture in Odisha
According to the 2011 Census of India, 61.8% of the Odisha's working population are engaged in agricultural activities. However, the agricultural's contribution to the GSDP was 16.3% in the fiscal year 2013-14 and it was estimated to be 15.4% in 2014-15. The area under cultivation was 5,691 hectares in 2005-06 and it dropped to 5,424 hectares in 2013-14. Rice is the dominant crop in Odisha. It is grown on 77% of the area under cultivation. Odisha produced 8,360 metric tonnes of rice in 2013-14, a drop from 10,210 metric tonnes due the cyclone Phailin.
During 2013-14, the state exported 4.13 lakh tonnes and ₹1,800 crore worth of seafood. In 2014-15, the value of exports rose by 26% to ₹2,300 crore with 4.67 tonnes being exported. Odisha is the fourth largest shrimp producing state in India.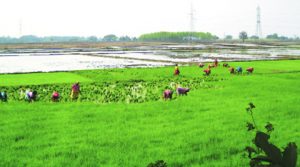 Agro and sub agro climatic zones of Odisha
Orissa lies in the Agro Climatic Zone-VII which is called as "Eastern Plateau and Hills Region" of India. Orissa is divided in to ten agro-climatic regions as given below:
North – Western Plateau
North Central Plateau
North Eastern Coastal Plain
East and South Eastern Coastal Plain
North Eastern Ghat
Eastern Ghat High Land
South Eastern Ghat
Western Undulating Zone
Western Central Table Land
Mid Central Table Land
Land holdings
The per capita availability of cultivated land was 0.39 hectares in 1950-51, which declined to 0.13 hectares in 2006-07. During 2000-01 there were 40.67 lakh operational holdings in the state out of which marginal and small holdings accounted for 83.8 %, medium 15.9% and large, less than 1% of the operational area. The average size of holding is only 1.25 ha. The size of operational holdings along with poverty of people poses a big problem in the agricultural growth of the State. The marginal farmers, constituting more than 50 % of the farmers, either own or rent a piece of land for cultivation. The state has 8 soil types namely, red sand & loamy, lateritic, red yellow, coastal alluvial, deltaic alluvial, black, mixed, red, black and forest soils.The cultivated area of the State is 61.65 lakh ha. In 2001-02 the total cropped are in Kharif was 60.61 lakh hectares and Rabi area was 23.57 lakh ha. The crop intensity is 144%. Because of the endemic poverty, they farmers cultivate their crops with little inputs and hence crop production is low. In this backdrop, besides enhancing capacity, increase in productivity per unit land area and cropping intensity holds the key to agricultural development.
Major crops of Odisha

Food Grains
Food grains include cereals, millets and pulses. Among cereals, the most important crop was rice. It was followed by ragi, maize, wheat, small millets and bajra. All these, except wheat are coarse cereals and belong to hardier crops which are mostly cultivated in the middle mountainous and rolling uplands and plateaus of Orissa. Whereas rice is confined to the coastal plains, the river valleys and Hirakud command areas where alluvial soil is found. Coarse cereals are of major importance in Orissa both in production and productivity.
Among the cereals rice is the most dominant crop. It is concentrated in areas of Cuttack, Sambalpur, Puri, Ganjam, Baleshwar, Koraput, Kendujhar and Kalahandi. Rice cultivation is mostly confined to the alluvial coastal plains and river valleys below the 305 meter contour line because of ideal topographical and soil conditions.
Pulses
Gram, tur and arhar are the major pulses grown in Orissa. The pulses can be broadly divided into kharif and rabi crops. Irrigated tracts like the Mahanadi delta, the Rushikulya plains and the Hirakud and Badimula regions are the prominent pulse growing areas of Orissa. Production of pulses are concentrated in districts like Cuttack, Puri, Kalahandi, Koraput, Dhenkanal, Balangir and Sambalpur.
Oil Seeds
Sesameum, groundnut, mustard, castor and linseed are the principal oilseeds grown in Orissa. Oilseeds are categorized as kharif and rabi crops. Rabi oilseeds are grown as a second crop after the cereals are harvested. Among the oilseeds, groundnut and castor are the hardier crops and are grown in marginal and sub-marginal lands.  Oilseed cultivation is concentrated in districts like Cuttack, Koraput, Kalahandi, Bolangir, Sambalpur, Dhenkanal and Ganjam. All these are located in a less hospitable terrain.  Coconut is mostly confined to the coastal plains because of the high salinity of the soil. Unlike Kerala, in Orissa coconut is primarily grown as a fruit crop. Except coconut, all other oilseeds are seasonal in character.
Except Cuttack district, all the other major oilseeds producing districts are located either in the middle mountainous or rolling uplands of Orissa, where the edaphic and climatic conditions are favourable. While Dhenkanal is the leading til producing district, Baleshwar leads in mustard and Cuttack in groundnut production.
Cash Crops
Among cash crops, fibre crops are specially important. Jute accounts for the maximum area and turn out among all the cash crops. Orissa is the fourth largest producer of jute after West Bengal, Bihar and Assam. Rice and jute, compete with each other as they require almost similar soil and climatic conditions. Cultivation of jute is primarily confined to the coastal plains of Cuttack, Balasore and Puri districts.  A considerable amount of Mesta is also cultivated. It dominates in the districts of Cuttack, Ganjam, Balangir and Koraput districts.
Sugarcane is the second most important cash crop in Orissa in area as well as production. It is grown in irrigated areas. Orissa stands eighth in sugarcane production in India. A considerable amount of cultivation occurs in Cuttack, Sambalpur, Balangir, Kalahandi and Puri districts, Orissa also produces a small quantity of tobacco. In cash crop production, Cuttack district tops the list.
Rubber Plantations 
To protect the degraded hill slopes of Eastern Ghats, rubber plantation have been taken up by Rubber Board. Bright prospect for the growth and development of natural rubber exist in the northern Orissa – Mayurbhanj, Kendujhar and Baleshwar due to favourable agro-climatic conditions. Orissa is a non-traditional area for rubber plantations. Inland hill areas of Cuttack, Puri, Ganjam and Dhenkanal districts have agro-climatic conditions suitable for rubber cultivation.
Cotton Cultivation 
Cotton cultivation has been taken up extensively in Koraput, Balangir and Kalahandi districts where suitable soil and climate conditions are found. Sea island cotton can be grown in the Ballipal region of Baleswar district.
Tea
It is concentrated in areas of Eastern Ghats, Kendujhar, mountainous region of Phulbani and Koraput.
Coffee
It is concentrated in forest lands of Eastern Ghats, Koraput, Kalhandi, Malkangiri, Rayagada, G.Udayagiri and Balliguda areas of Kanohanthal district.
Pattern                                                                                                                                                                                                                      Rice is the principal food crop of the state occupying about 44.47 lakh hectare (41.18 lakh    hectare. during Kharif season + 3.29 lakh ha during Rabi season). Productivity of rice during 2007-08 was 76.14 lakh MT.  Maize and Ragi are the important coarse cereal crops. The production of ragi and maize was 1.65 and 4.82 lakh MT, respectively. Jowar, Bajra and small millets are also grown in the state to a lesser extent. Arhar, mung, kulthi, biri, gram, fieldpea, cowpea and lentil are the pulse crops grown in the State. The major crops are arhar, mung, biri and kulthi. Pulses are grown mainly in uplands during Kharif season predominantly in inland districts and in rice fallows during Rabi season, mostly in coastal districts under available moisture condition. Mung and biri are also grown as third crop in summer under irrigated condition. Sugarcane and cotton are also grown in some district of Orissa. These crops are gaining more importance in the State.
OPSC  Notes brings Prelims and Mains programs for OPSC  Prelims and OPSC  Mains Exam preparation. Various Programs initiated by OPSC  Notes are as follows:-
For any doubt, Just leave us a Chat or 
Fill us a querry
––